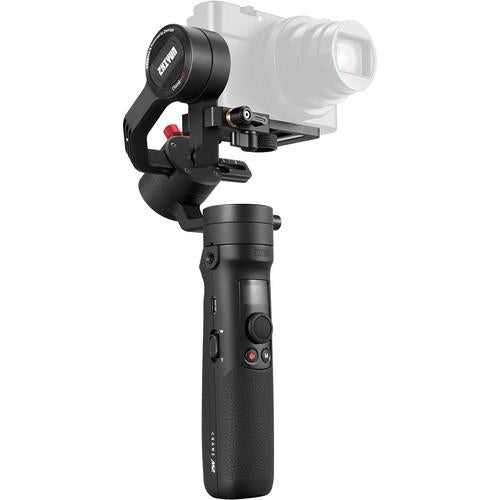 Key Features
Compact Ultra-Portable Design
For Cameras & Smartphones up to 1.58 lb
360° Pan, 310° Tilt & 324° Roll Rotation
Six Operation Modes
Smaller, more lightweight, theCRANE-M2 3-Axis Handheld Gimbal StabilizerfromZhiyun-Techis designed for compact cameras, smartphones, and action cams up to 1.58 lb. (An optional mounting accessory is required for attaching action cams.) The compact design allows you to maneuver your camera more freely and for longer periods. It's also easier to pack up with you and carry, whether nearby or when traveling. This aside, the CRANE-M2 provides the standard features that have made gimbals such a revolutionary addition to the world of camera supports.

The CRANE-M2 offers 360° pan, 310° tilt, and 324° roll rotation across six modes of operation, including POV and Vortex modes. It runs for approximately seven hours on a built-in battery that's rechargeable using an included micro-USB cable. Over built-in Wi-Fi, the gimbal is able to sync up with a Wi-Fi-enabled camera that supports remote zoom, shutter, and video start/stop control. These functions can be operated from a zoom rocker and other controls on the gimbal. Furthermore, over built-in Bluetooth, the camera syncs up with a free-download ZY Play mobile app for iOS and Android for additional capabilities. The app provides remote control over many functions of the gimbal and also has filmmaking features such as time-lapse, panorama, and slow-motion capture.

An OLED display on the gimbal confirms the selected operation mode, battery level, Bluetooth/Wi-Fi status, and other functions. The CRANE-M2 features a quick release camera mounting system that lets you secure or remove your camera at the push of one lock button. Scale marks and memory locks help you balance the camera and lock the balance position for the camera used. A hand strap and mini tripod are also supplied with the gimbal. The mini tripod attaches on the bottom to function as a tripod or a stand, but it can also be used as an extension to provide you with even more control over the gimbal and camera, as you'll have a better grip on the gimbal.