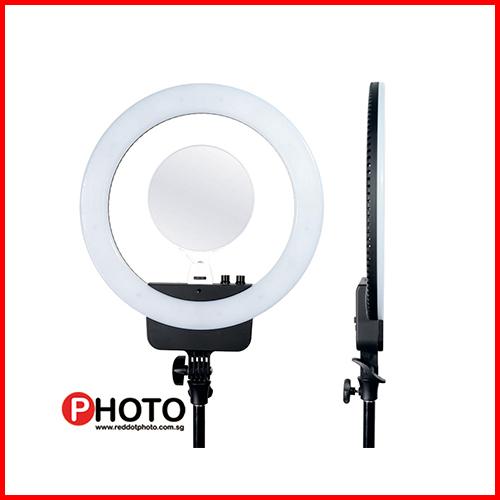 Well-suited for beauty lighting, makeup, and selfies, the 15" Venus V29C Bi-Color LED Ring Light from Nanguang provides an attractive, soft, near-shadowless light quality with interesting, signature ring-shaped catchlights in the eyes of your subject. Its 12" inner diameter and stand mount allow you to shoot through it with a DSLR for maximum effect but the included mirror and phone bracket make the Venus ideal for composing quality selfies.
The V29C's color temperature is variable from 3200 to 5600K to match other fixtures, ambient light conditions, or just to offer creative options. The light is dimmable too, saving you the trouble of moving it back and forth to achieve the required light intensity.
The Venus V29C can be powered by either AC or DC power sources via the included universal 100-240 VAC adapter or with an optional Sony NP-F-type battery on the road where mains power is unavailable. An additional benefit for social media shooters and those recording with mobile devices is a built-in USB charging port to keep your phone or tablet's battery life topped off.